No doubts, our world moves quickly and its speed continues to increase dramatically. This global trend literally forces companies to be on the crest of a wave and deploy new product features and product versions constantly. New technologies pop up faster than toadstools after rain and change the way we think about pretty much everything. In such a volatile business climate, the only safe assumption is that application you worked this year won't be the same next year.
Atlassian is one of the industry leaders when it comes to new product features, releases, and announcements. The company is able to not only strategically forecast and meet the market realities but to define the future of how we as an organization are going to perform next year. For the actors on the market, it's not only the way to survive and to strengthen their positions but also the way to gel the industry. Peter Drucker's quote describes this precisely enough: "The best way to predict the future is to create it".
So what about end Jira users? What to expect? Or what should Bitbucket admin be aware of? What is the Jira feature that was requested since 2005 and has over 2,500 votes? It is rated the #1 customer voted feature request in Atlassian public issue tracker and now it's been released. We here, at Translucent, are pleased to present a summary of 5 Atlassian announcements that, in our opinion, touched the hearts of Atlassians over the past 3 months. We are going to cover one at a time and it's going to be a series of 5 articles in total. So stay tuned, share and let us know what do you think. Let's lead off into the discussions and shape this world!
New Jira Cloud UI/UX
The new Jira Cloud UI/UX is perhaps the most recognizable change all the Jira Cloud users have noticed recently. Atlassian did a great job reviewing thousands of customer responses that highlight a common theme: complexity and poor usability were the biggest challenges for teams using Jira. After rigorous testing and validation, the product team announced that Jira Cloud got an updated look and feel, including a collapsible sidebar navigation and enhanced search, to help teams all over the world and industries get things done faster. The change and redesign simplify Jira and helps teams create, find and collaborate on their work more easily.
But just when you think you have a happy Montagues family, there is always Capulets coming. Each major Atlassian platform release always has its fans and, if not haters, then dislikers…
Imagine that you have a company adoption after switching from, let's say, the one and only Microsoft Excel to Jira Software. You're driving the change and you're in the middle of teaching users Jira basics like issue creation etc. and boom: a new user experience is suddenly rolled out. The new reality makes you decide whether to stick with old Jira UI/UX or accept the change and switch to the brand new one. Fortunately, Atlassian provided a smart way of switching between two interfaces and made it easy to manage for admins - just a simple click and you get the new look and feel.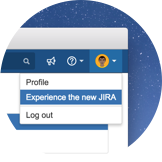 The CEO is hardly claiming to switch to the brand new interface because it's just new, users are begging you to stay with more or less understandable interface that all of them got used to. What is going to be your decision? More to come.
Recently, I had a chat with my old fellow who is Jira Cloud admin. He cried a river of tears only because Atlassian UX specialists took away instant access to Jira admin settings and added a couple of steps more to get to the "gear icon." However, we all know that opinions differ, and in general, there's strong positive feedback to the new Jira Cloud experience and from our part, we salute how cleverly Atlassian did the switch.
What do you think? Feel free to share your feedback and stories on new Jira Cloud interface with us, and if you feel intrigued by the details of the new user experience, dive deep into the Atlassian article on the matter.
Kontakt os